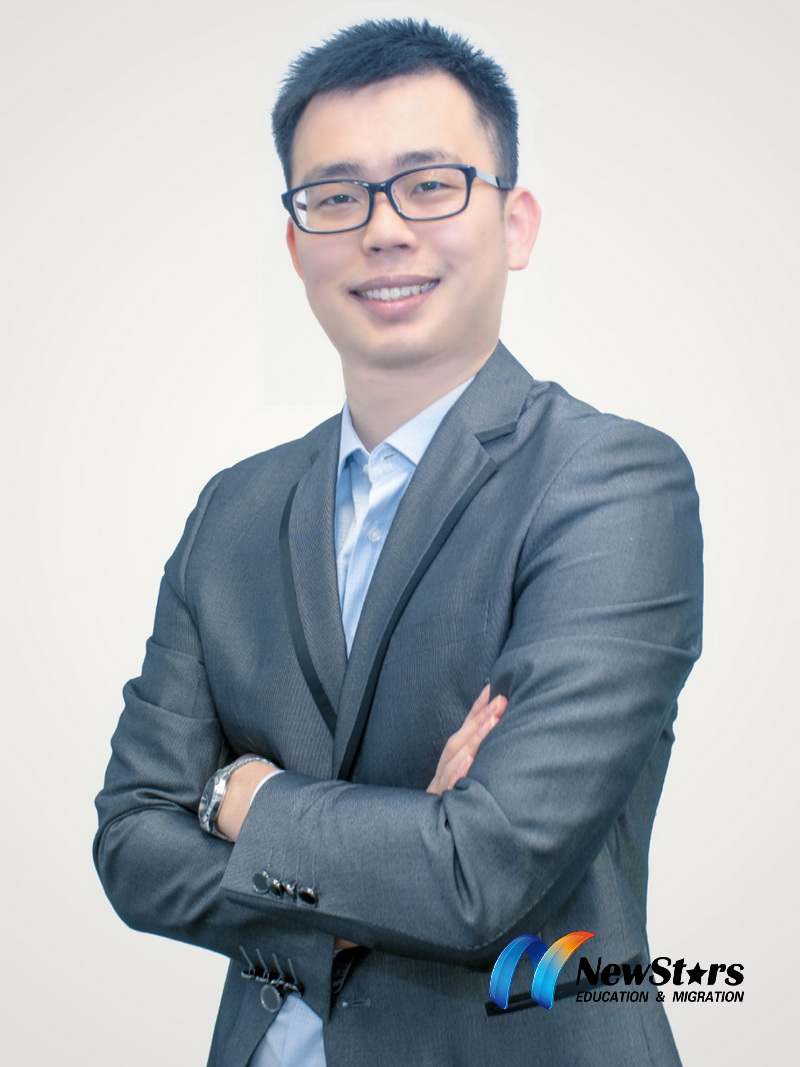 吴剑鹏 Jasper
纽星达教育移民集团悉尼执行董事 / 联合创始人
---
尊敬的社会各界伙伴,尊敬的家长、同学:

你们好!我是纽星达教育移民悉尼办公室主管吴剑鹏,毕业于麦考瑞大学应用金融专业。多年前尚年幼的我,怀揣着一睹悉尼歌剧院风采的梦想来到了澳大利亚求学。这里的天空和海滩一望无际,课堂氛围积极热烈,人文环境自由民主。偶然的机会,我帮助了身边的一些朋友来到澳洲留学和生活,从此一发不可收拾。多年以来,我处理了成千上万的留学申请,帮助来自中国,韩国,马来西亚,新加坡等五湖四海的学生成功的在澳洲各地开始他们的留学生涯。作为纽星达悉尼区留学部的负责人,我非常荣幸的见证了留学行业的蓬勃发展,也与澳洲的各大院校负责人结下了深厚的情意。希望在我的帮助下,大家的留学移民路可以一帆风顺,让澳洲成为你梦开始的地方。
客户评价
---
Aurangkul P.jaroenpol 2022-05-10
I have wait for my visa from last May till now. I have not got any lucky yet. The team not really support and very difficult to contact also last suggestion with me to change to other agent after waiting for my visa almost a year.**** before I give this agent only 1 star as complain sentences up there but I come to change to give for 5 stars because of Jasper is the best. He is very professional and really Helpful and try fixed my problem as professional way from some of unprofessional staff with his team. Anyway I really recommend JASPER. If you want to use with this company. He is Super star for this agent!!!
---
eden 2021-09-01
My girl friend and I have been with NewStars for years for our visa application. I cannot appreciate Jasper and his team enough. He handled our documentation properly, making the whole processing smoothly from the very beginning to the end. Thank you so much Jasper for everything you did for me. I would recommend Jasper highly to anyone looking for visa application service.
---
Zihao Zhuang 2021-08-30
Jasper followed up promptly on the same day. Really appreciated.
---
macy hello 2021-08-12
Jasper Wu is very professional and responsible, he handled my case very well, very patient and always answer my questions in time. I would highly recommend Jasper if you are looking for a great Visa service!
---
Kay TAN 2021-08-09
Anna Wang took good care of my visa application recently. Jasper Wu also took good care of my previous visa applications in Australia after I graduated from the degree. NewStars is a trustworthy agent. I always had confidence in my applications with their great knowledge and experience. Thumds up to this agent.
---
ZHENGDA YU 2021-06-28
NewStars is a reliable and professional immigration agent. Faye and Jasper are very friendly and dedicated professionals. They provided me with premier quality services for my study and immigration.
---
Ying Chen 2021-06-26
Jasper is very professional and he helped my family get 485 visa and 189 skilled independent visa.
---
manyi gao 2021-04-17
Nice agency helping with everything regarding Visa! Thank you guys very much.
---
Tyler Zhang 2020-11-22
Highly recommend this company. Staff are pretty friendly, responsive and professional. My agent is Jasper and I have been using his services since I came to Australia for master degree 5 years ago. Until now I am granted my PR and settled in Australia. Thank you for NewStars's professionalism that I can accomplish these goals.
---
J L 2020-10-01
They are very professional, conscientious, and extremely patient! Very satisfied with their service!
---